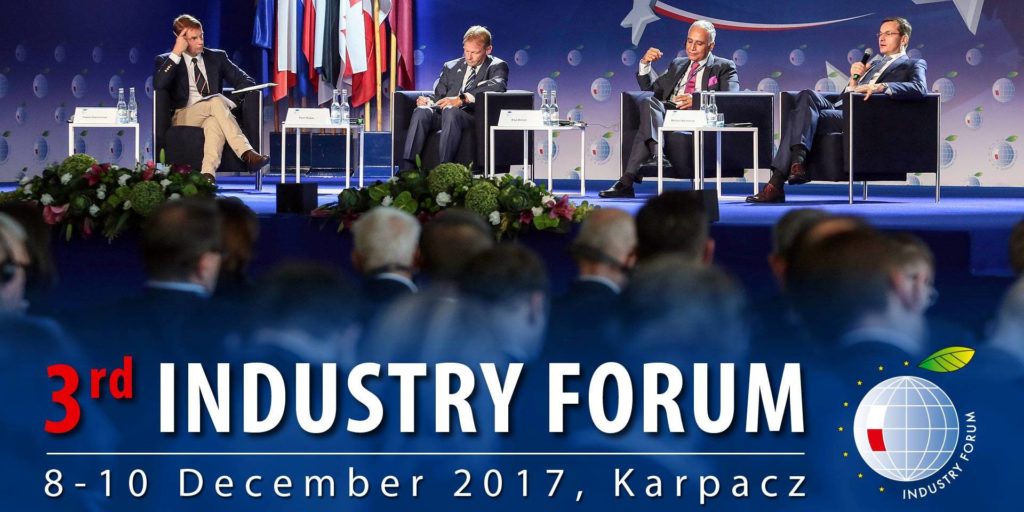 On December 8th-10th Virtual Power Plant will be present at 3rd Industry Forum in Karpacz during which CEO of VPPlant – Grzegorz Nowaczewski will participate in panel "Electromobility – from concept to implementation".
3rd Industry Forum will be an opportunity for a broad debate about key problems of European industry, such as: reindustrialization, digital economy, electric revolution in motorization, climate policy, energy security, modern and traditional industries and also everything related to leisure industries e.g. tourism, culture, entertainment. During the forum dozens of events will take place: debates, plenary sessions, presentations of reports and thematic blocks. Over 700 guests will take part in the event, including representatives of the largest industrial concerns, parliamentarians, experts and economists from countries of Central and Eastern Europe.
On the first day of the Forum, at 15.30 will take place a discussion panel "Electromobility – from concept to implementation". It will be a part of thematic track "Economy".
In discussion panel will take part:
Tomasz Dorf, Sales Director SMB, Microsoft, Poland
Nazar Shymone-Davyda, CEO, Go To-U, Ukraine
Grzegorz Nowaczewski, CEO of Virtual Power Plant Sp. z o.o., Poland
Jacek Zimmer, Solicitor, The Law Office Swora Legal, Poland
Grzegorz Gumulak, Director, AutaElektryczne.pl, Poland
Guido Haak, Product Strategy Manager, ŠKODA AUTO a.s., Czech Republic
Moderator of the conversation will be Rafał Zasuń, editor-in-chief of WysokieNapiecie.pl portal.
More information about 3rd Industry Forum.