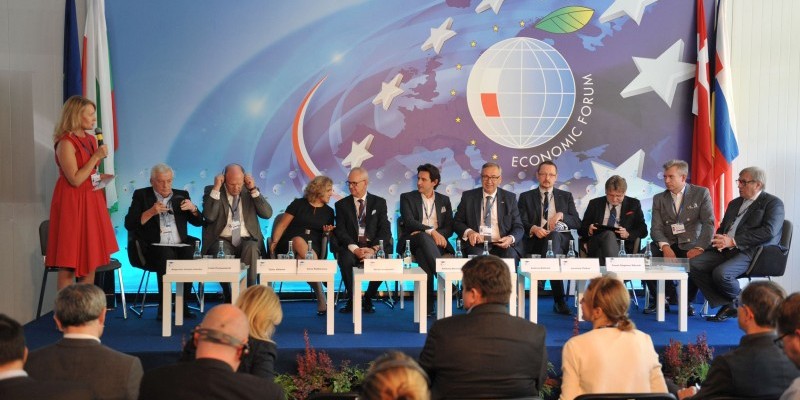 The XXVII Economic Forum will be held in Krynica between 5th and 7th of September. This year, the participants meet to discuss the topic "Project Europe – what recipe for the next decade?". Themes related to energy efficiency will also be among the talks. Virtual Power Plant CEO will take part in the discussion panel related to the application of new technologies in the power industry.
6 plenary sessions will be held within this year's Economic Forum in Krynica, more than 180 panel discussions, workshops and debates, as well as national and regional presentations. Over 3000 participants are going to take part in the event.The organizer of the Economic Forum in Krynica is the Foundation Institute for Eastern Studies. More about the event at www.forum-ekonomiczne.pl.
Discussion panel "New technologies in energy industry"
During the Forum, Virtual Power Plant will be a participant in the "New Technologies in Energy" discussion panel, organized under the title "State and Reform". Taking part in the discussion will be: Grzegorz Nowaczewski (CEO, Virtual Power Plant Sp. z o.o.), Grzegorz Wiśniewski (President of the Board, EC BREC Institute of Renewable Energy), Piotr Czak (CEO, PGE Ventures Sp. z o.o.), Wojciech Górniak (director, Deloitte), Michał Kurtyka (Undersecretary of State, Ministry of Energy) and Grzegorz Należyty (Board Member and General Director Power and Gas Divisions, Siemens Sp. z o.o.). The moderator of the discussion will be Rafał Zasun (Editor-in-Chief  of the website WysokieNapiecie.pl), and its commentator Jaime Ruiz Huescar from Spain (Technical Officer, Local Energy Agency of Murcia ALEM).
The following questions were posed to panelists: How to create value for companies by means of technological innovation in power industry – whether and when electromobility, smart grid, energy storage, IOT, RES can make a profit? Modern technologies and energy security: What will be the role of traditional energy in the world, going unambiguously towards distributed generation? Can we afford to implement smart energy in Poland? Innovations in the field of heating and their importance for customers and for heating companies.
The discussion panel will be held on September 6, at 14:25-15:25 GMT+1 in the Old Spa House (Building E – TV Room).
Virtual Power Plant participates in the Krynica Economic Forum for the first time. Last year the company's CEO took part in the debate "Buildings of the future – smart, ecological, real?".