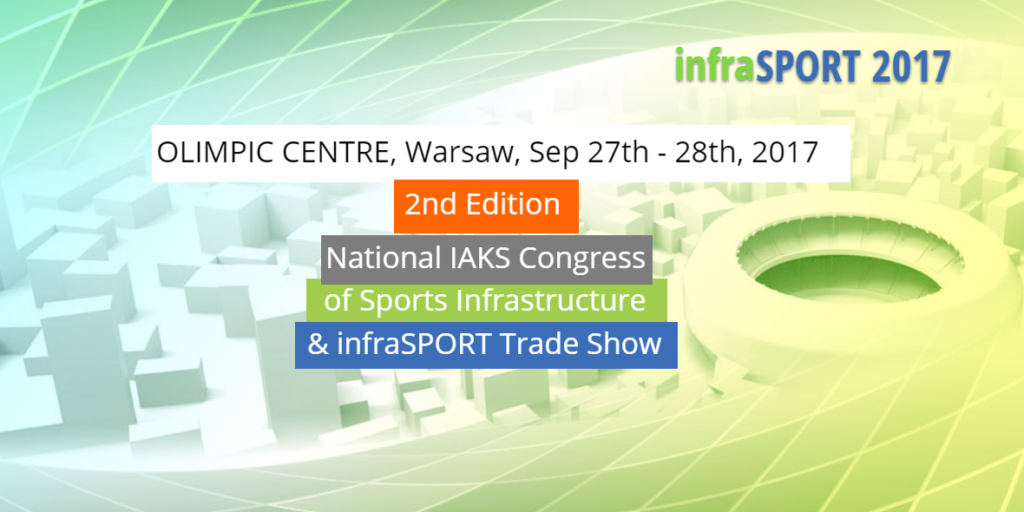 On 27-28th of September we will be present at the II National Sports Infrastructure Congress IAKS and InfraSPORT 2017. For two days we invite you to visit our exhibition stand and at the second day of the event to hear the panel discussion with the CEO of VPPlant, which theme will be safety and energy efficiency of swimming pools
VPPlant at the Congress
During the Congress, CEO of VPPlant Grzegorz Nowaczewski will take part in panel discussion "Can Polish swimming pools meet the changing standards and still be profitable?". Witold Nykiel (director of the Academic Sports and Training Centre of the Technical University of Lodz Sport Bay), PhD Rafał Cieślak (assistant professor at the Centre for Local Government and Local Development Studies at the University of Warsaw) and Piotr Gąszcz (expert in management of sports facilities with more than 17 years of experience).
During the discussion, the participants will answer the following questions: How do legislative changes affect the functioning of facilities by forcing the unplanned investments on them? Have all the changes in recent years improved the comfort and safety of swimming pools?. They will also consider the relationship between the technologies used and the financial performance of the swimming pools. Discussion will take place on the second day of the event at 14:00.
VPPlant at the EXPO
During the two days of the event VPPlant will have its own exhibition stand in the expo area. We will present you our offer covering projects addressed to sport infrastructure managers and in particular:
Enabler DSR– projects that improve Energy efficiency of large-scale facilities such as sports halls,
OHT– technology aimed at improving air quality in indoor swimming pools, for which we are currently conducting research and development work under funding from National Centre for Research and Development. The aim of this project is to conduct industrial research and development work for the prototype of new technology (OHT): an intelligent optimizer for ventilation systems. Innovative OHT solutions by combining the management of water disinfection processes with the work of HVAC systems will generate savings on electricity and heat. It will also allow swimming pool managers to monitor the quality of water and air; will reduce the negative impact of water disinfection processes on the human health.
About the II National Sports Infrastructure Congress IAKS and InfraSPORT 2017
The II National Sport Infrastructure Congress IAKS and the accompanying Sports Infrastructure and Sport Equipment Trade Fair infraSPORT will be held on 27-28 September 2017 at the Olympic Centre in Warsaw. During the two days of the Congress, participants will have a chance to talk with experts from around the world, see how to properly conduct the investment process, raise funds and avoid debt, and how to invest and plan in the sports sector. Congress will bring together many Polish and international professionals from the fields of sports and recreation infrastructure.
More than 500m2 of exhibition space, networking area and special congressional area will be awaiting participants of the congress and expo. Like during last year's event, 6 discussion panels will be divided into management, financing, architecture and the complete strategy of sports infrastructure development within local government units, which will be shared by specialists from around the world as well as from Poland
More about the event at the website www.infrasport.pl.