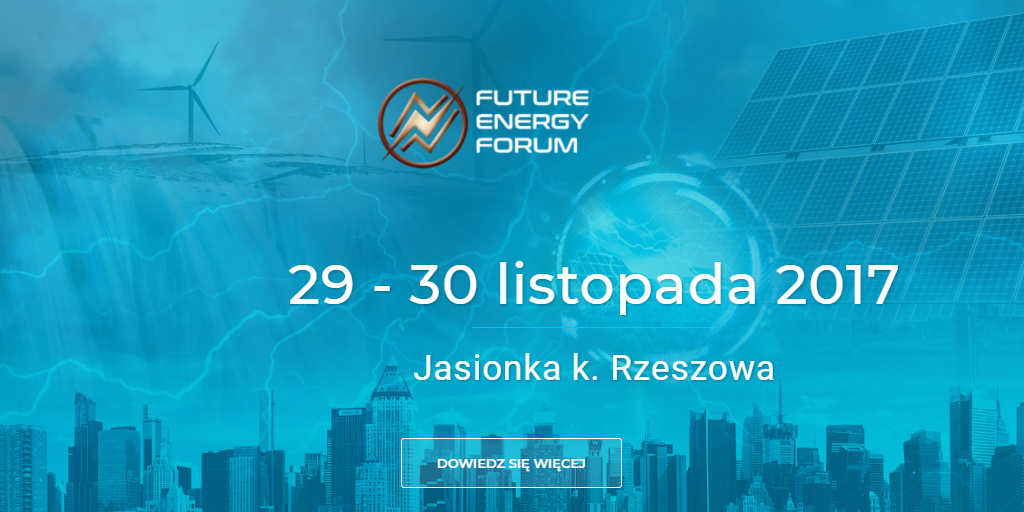 On 29-30th of  November Virtual Power Plant participates in Future Energy Forum in Rzeszow. During the event, the CEO of VPP – Grzegorz Nowaczewski will participate in two discussion panels: ways to secure the future of energy industry and about Polish approach to e-mobility.
Future Energy Forum is the first edition of a polish nationwide energy event that will take place in subcarpathian region.  G2A Arena – Exhibition and Congress Center of the subcarpathian voivodeship is the most modern conference facility in south-eastern Poland. During the forum there, experts, representatives of the energy industry and decision makers are going to meet. In the time of the event there will be analyzed current situation in the energy industry and its future. The discussion will focus on changes in law, technological novelties and development strategies of companies operating in this market. The congress will enable a high-level debate and dialogue between representatives of the energy sector, cooperating sectors and public administration.
During the Forum CEO of VPP will take part in two panel discussions:
HOW TO PROTECT THE FUTURE OF ENERGY?
Moderator:
Wojciech Jakóbik, Editor-in-Chief of BiznesAlert.pl
Speakers:
Ryszard Wasiłek, Vice President of the Management Board, PGE S.A.
prof. dr hab. Paweł Ruszkowski, Associate Professor at the Institute of Sociology, Collegium Civitas
Łukasz Zagórski, Vice President of Stowarzyszenie Energii Odnawialnej (Association of Renewable Energy)
Grzegorz Nowaczewski, CEO of Virtual Power Plant
E-MOBILITY – POLISH ROAD
Moderator:
dr. Sebastian Kawczyński, Member of the Board of Polish E – mobility Association
Speakers:
Adam Hamryszczak, Undersecretary of State at Ministry of Development
Paweł Śliwa, Vice President of the Management Board, PGE S.A.
Robert Kuraszkiewicz, Vice President of the Management Board of Bank Pocztowy SA
Grzegorz Nowaczewski, CEO of Virtual Power Plant
Jarosław Wajer, EY Business Advisory Partner, responsible for counseling companies in power engineering
More information about the event and its program can be found at www.energycongress.pl.