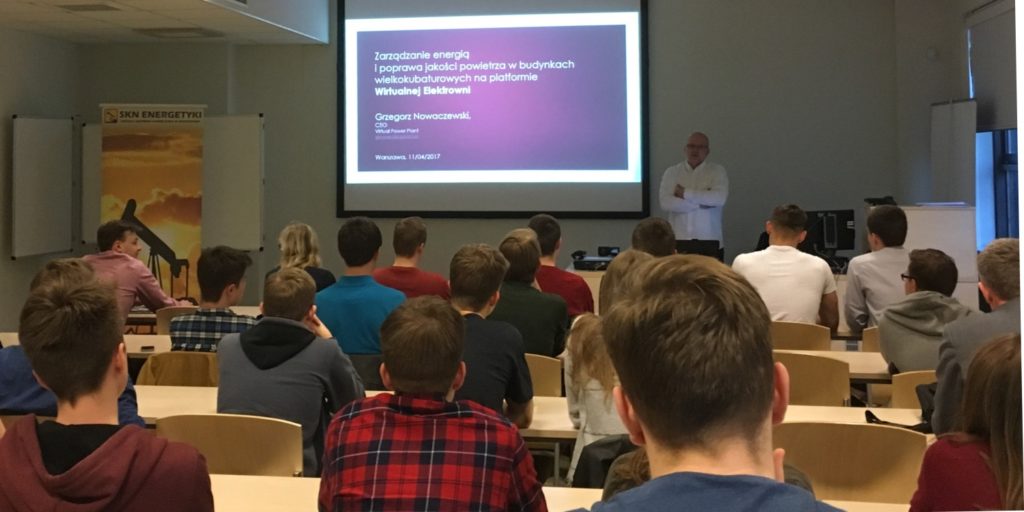 On April 11, at the invitation of the Student Scientific Society of Energy at the Warsaw School of Economics, we met with students of Warsaw universities interested in the subject of modern energy industry. VPPlant President Grzegorz Nowaczewski told the audience about innovative projects implemented by the company.
During the meeting, the company's CEO explained the concept of Virtual Power Plant, and the basics of Demand Side Response (DSR) services. Examples of specific large-scale stores and multiplexes have demonstrated the benefits of implementing Enabler DSR. A large part of the meeting was devoted to the innovative Office Building Energy Management System (oBEMS), which is currently being implemented by the company and co-financed by the National Research and Development Center with European funds. Students learned about the problems of ensuring high quality of indoor climate. They also learned how VPPlant, through its BMS and HVAC overlay, optimizes energy management in its clients' facilities and at the same time improves the comfort of their users. 
After the presentation the students had the opportunity to ask questions. They were interested in the existence of competing companies on the global and Polish markets, the business model implemented by the company, and the government's announcement of the power market in Poland.
– I am very surprised by the level of knowledge of students who took part in the meeting. It can be seen that for many of them energy is not just another topic for studying, but it is their passion and future in which they want to invest – said Grzegorz Nowaczewski after the meeting.
The Student Scientific Society of Energy, although formally acting at the Department of Foreign Trade and European Studies at the Warsaw School of Economics, brings together students from different technical and economic universities, to broaden the knowledge about the widely understood energy sector.
Photo: Student Scientific Society of Energy